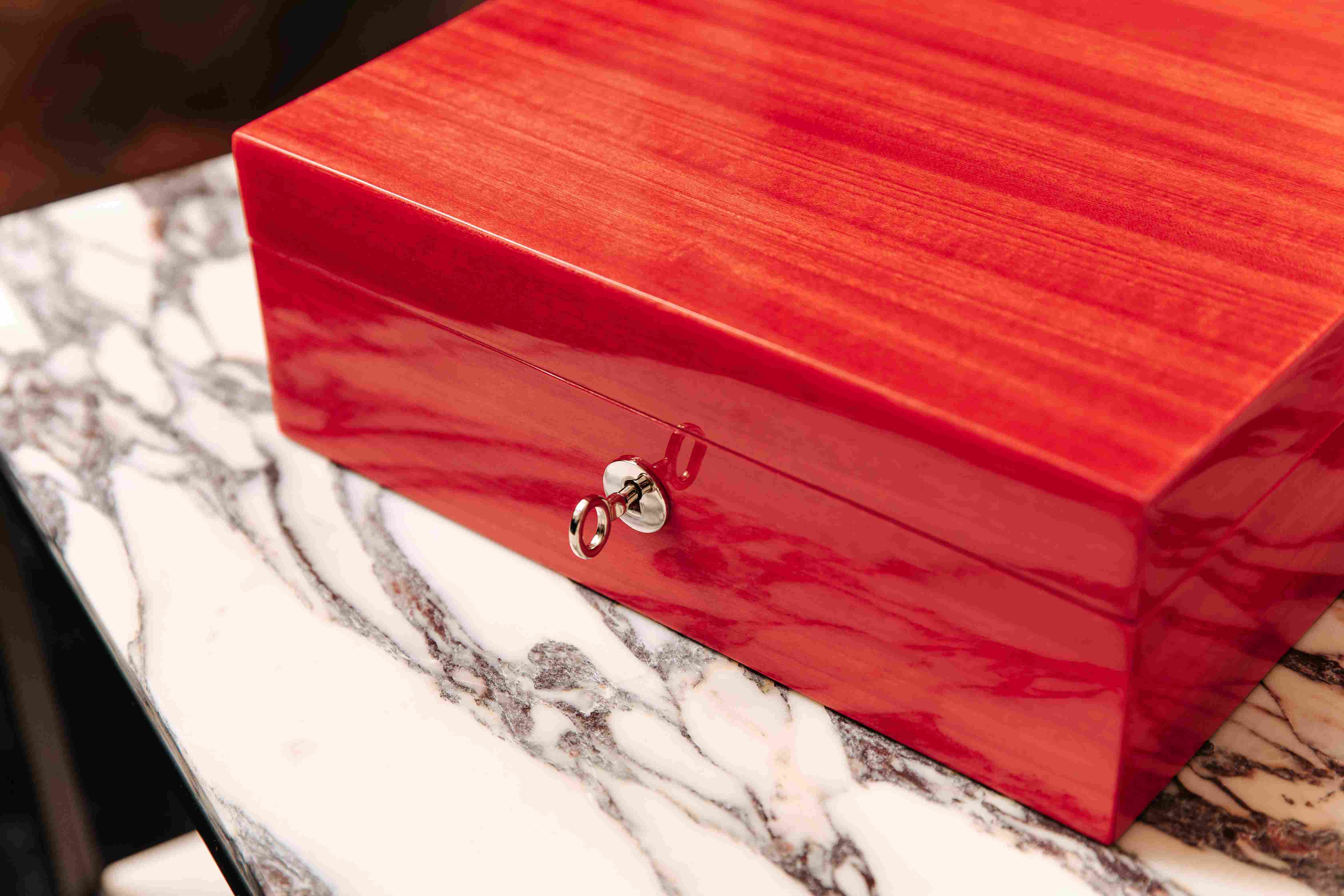 The best gift you can give someone you love is time.
Flowers and chocolates are always well-received, but this year why not opt for a Valentine's Day present that is sure to make a more lasting impression? Select from the Rapport Collection of watches, watch winders, leather goods and expertly crafted accessories for both ladies and gentlemen. With unrivalled expertise in horological products, passed down over four generations, we use only the finest materials and products to lovingly create each exquisite item.

Gifts for the lady in your life

While it would be vulgar to attempt to put a price tag on true love, nothing could make a more definitive statement of your commitment than a Deluxe Jewellery Trunk. (Apart, perhaps, from the ring that will fit so majestically inside.) A captivating example of British craftsmanship, two front-opening doors reveal a soft suede interior with multiple drawers to store two of her watches and her collection of jewellery pieces.
As well as our extensive range of horological products, Rapport offers an enticing selection of premium jewellery rolls, boxes, wallets, makeup pouches and tote bags. Our Small Make-Up Pouch is available in a choice of six vibrant colours and will make the perfect companion for the lady with places to go. Elegantly crafted in grained leather and designed to fit neatly into her favourite handbag, the luxurious case comes with a gold zip and soft cotton lining.
Alternatively, you might wish to treat her to our classic Sussex Trinket Box. This multi- purpose trinket box is the perfect place to store her precious keepsakes, with a soft suede interior to protect the valuables kept inside.

Gifts for the perfect gentleman

Valentine's Day might well be the perfect occasion to introduce him to the joys of the Evo Single Watch Winder. Precision crafted from wood and applied with layers of lacquer, this gift is available in a range of sleek, high gloss colours. The cube offers multiple levels of control and a three-direction setting. If you and your loved one are forced to spend time apart occasionally, there's no more elegant way to count the hours and minutes that separate you.
Money can't buy love, and yet it still affords many of the finer things in life. Help him take care of his wealth in supreme style with our Brompton 5-piece watch box. Using superior processes and materials, the chocolate brown or black crocodile-effect leather watch box is a stylish place to store and protect your watches.
Alternatively, if he is a man of style you might wish to treat him to the classic Half Hunter Pocket Watch – a gift he will treasure until the end of time. This Quartz timepiece features a White Roman dial with date window and moonphase display, encased within a handsome Gold or Silver-tone polished shell.
The Brompton Three Watch Roll, a work of art in its own right, is handcrafted in fine quality leather. The crocodile effect leather case is designed to hold three of your favourite watches for travel. To provide secure storage, the watch roll is lined in soft suede to protect her different watches. If time does indeed fly, it will do so considerably more safely in this stunning watch roll which is available in smooth Navy Blue, Black, Red or Tan leather.
These are just a small sample of the highly desirable products that you will find in our online shop. Whatever you eventually select from the Rapport Collection for your valentine, you can be certain it was crafted with the love and passion that will make it a truly fitting gift for the most romantic day of the year.