Best seller
Evo Single Watch Winder - Black
---
The "EVOLUTION MKIII" single watch winder cubes are Rapport's bestselling winder, with a luxurious finish and classic shape, theres no denying that this watch winder will steal the show. Each cube is individually crafted to hold and store one automatic watch.
SKU: EVO40
Order now and we'll ship your order tomorrow
Bestseller
Silent rotation
The case is precision constructed in wood, finely finished with several lacquer coats. The watch carrier is covered in black leather, has rubber side clips and is fully adjustable to accept any size and style of watch strap. The winding mechanism runs virtually silent. We have designed double and quad frames, constructed in gloss finish Ebony, into which you can slot individual EVO Cube MKIII watch winders in any combination of colours you desire.
* Size: W120 x H120 x D146mm
* Nine colours
* Virtually silent
* Nine directional and TPD settings
* Can operate on battery or power
Orders placed before 2 pm will be shipped the same day.
Please see our Shipping Page for more information on delivery times.
Returns can be made up to 30 days after purchase.
Evo Single Watch Winder - Black
Sale price
£325.00
Regular price
Black
Choose options
Express Shipping
We deliver worldwide with express delivery options. Orders are dispatched same day if ordered by 2pm.
30 day returns
Return any order within 30 days of delivery.
2 year guarantee
We are sure you will be delighted with your purchase, yet we offer a 2 year warranty.
Customer Service
We pride ourselves on excellent service. 91% of our customers leave a 5-star review.

Gift wrapping
Buying something special for someone special? Add gift wrapping to your purchase at check out free of charge.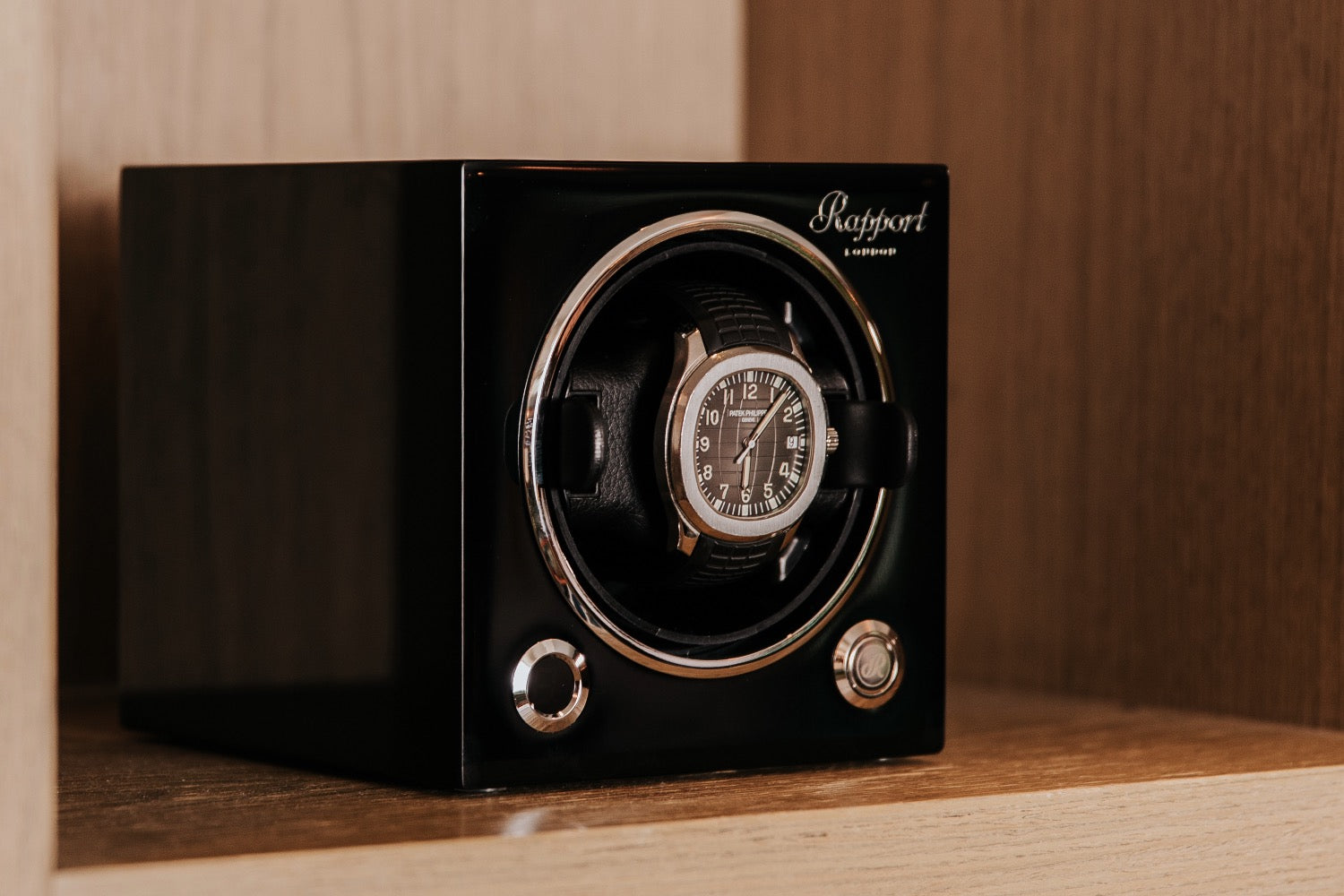 Tailor to suit your watches needs
Customisable Settings
The EVO single watch winder offers customisable settings for winding direction and TPD (turns per day), allowing you to tailor the winder to the specific needs of your automatic watch.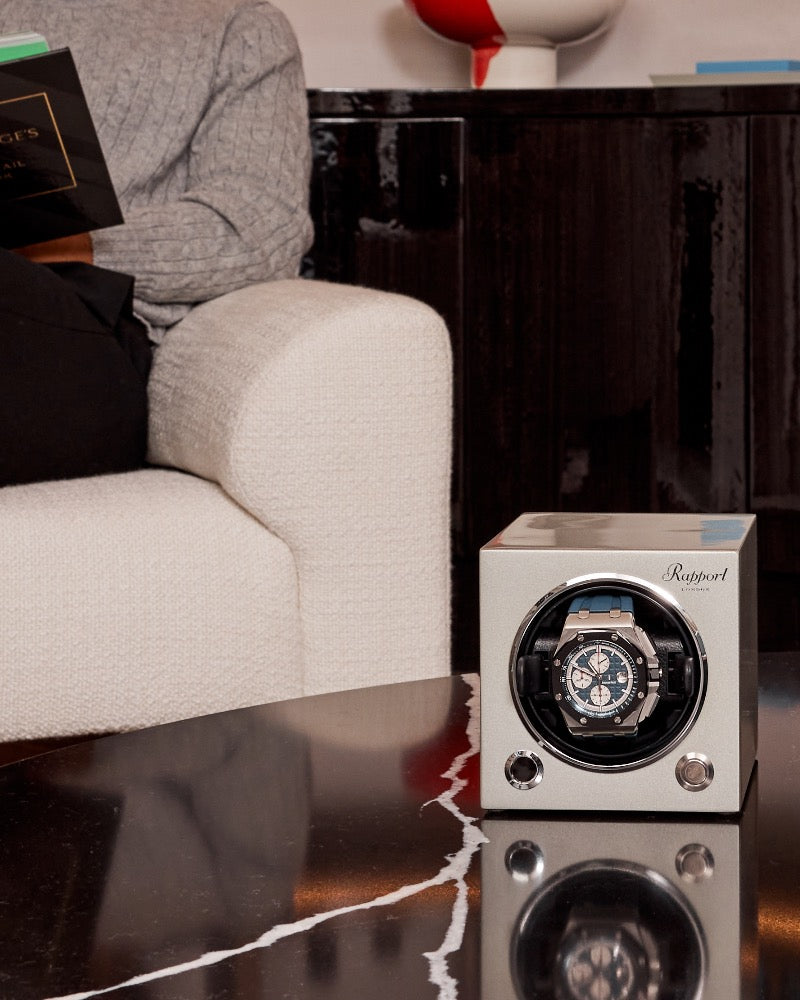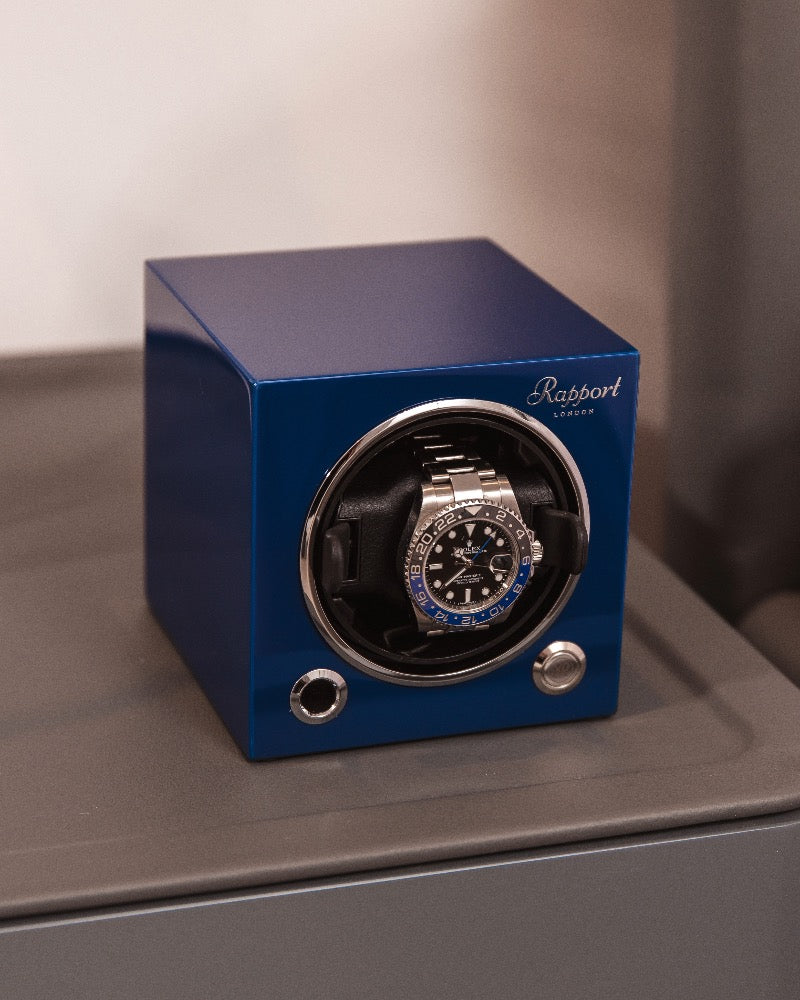 Virtually silent
The EVO has been expertly designed over the years to operate virtually silent, ensuring that they won't disturb your living space while keeping your watch running.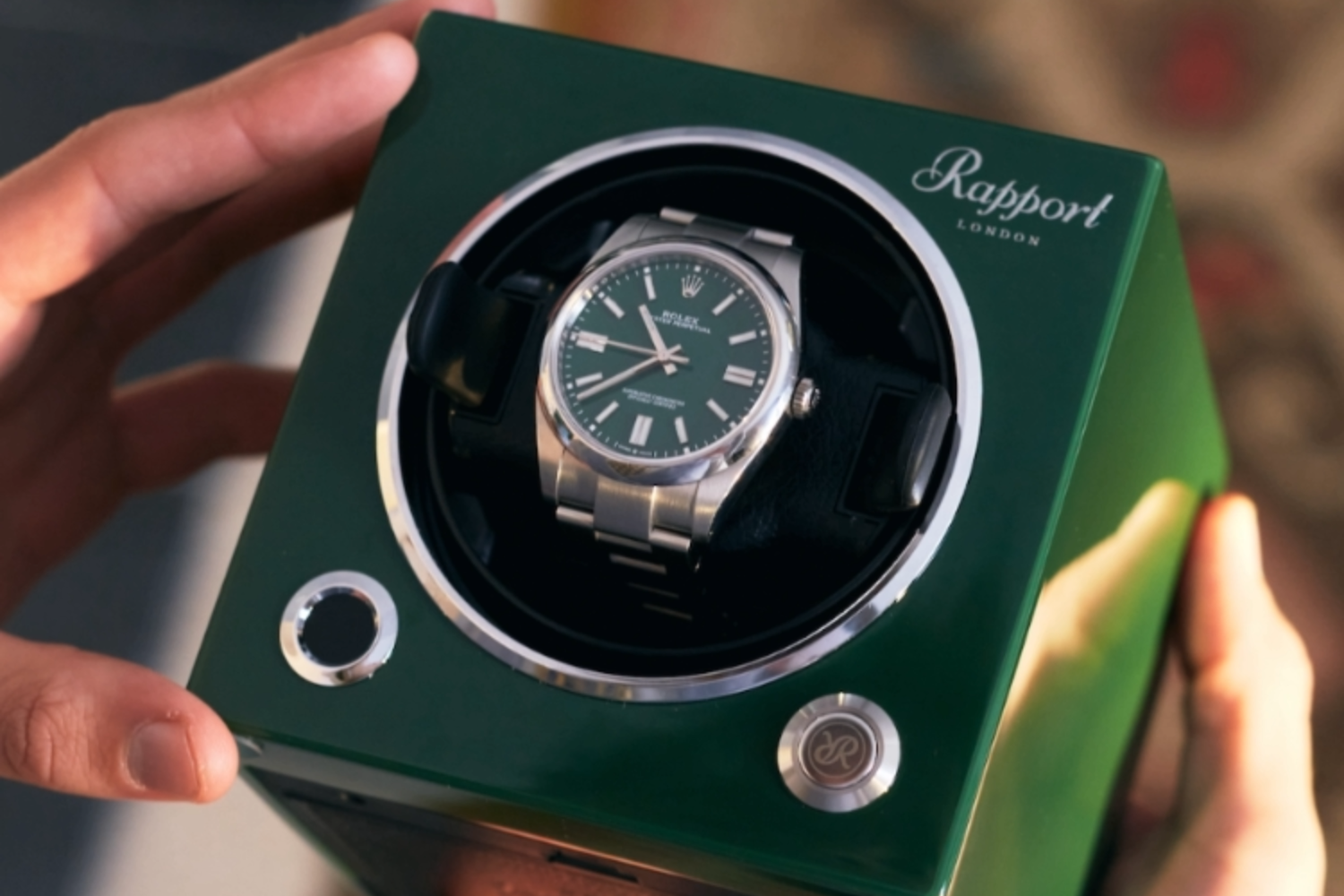 Bestselling design
Compact and functional
The single watch winder has been perfectly designed to sit on your bedside table or place it in your safe, as the EVO can functionally operate on battery power. With multiple colour-ways, build your collection and stack your EVO cubes.
An automatic watch has a mechanism that requires regular motion to keep the inner spring constantly charged. This motion is usually provided as it is worn. Once removed from the wrist the stored energy will only run for 24-72 hours, depending upon the model, then the watch will need to be manually rewound and reset.Many automatic watches have additional features, or 'complications' - date/lunar phase/world time etc. so the task of rewinding and recalibrating a watch if it runs down is best avoided.Furthermore, watches of such calibre are precision instruments and like all thoroughbreds they actually benefit from exercise - if left unwound for long periods, internal lubrication can be lost from critical areas which will eventually lead to excessive wear on components and subsequent lack of accuracy.